Tantric Goddess Playground – Embodying the Divine & Sex Magic for Mother Earth
20. September 2019 @ 19:00

-

22:00

30€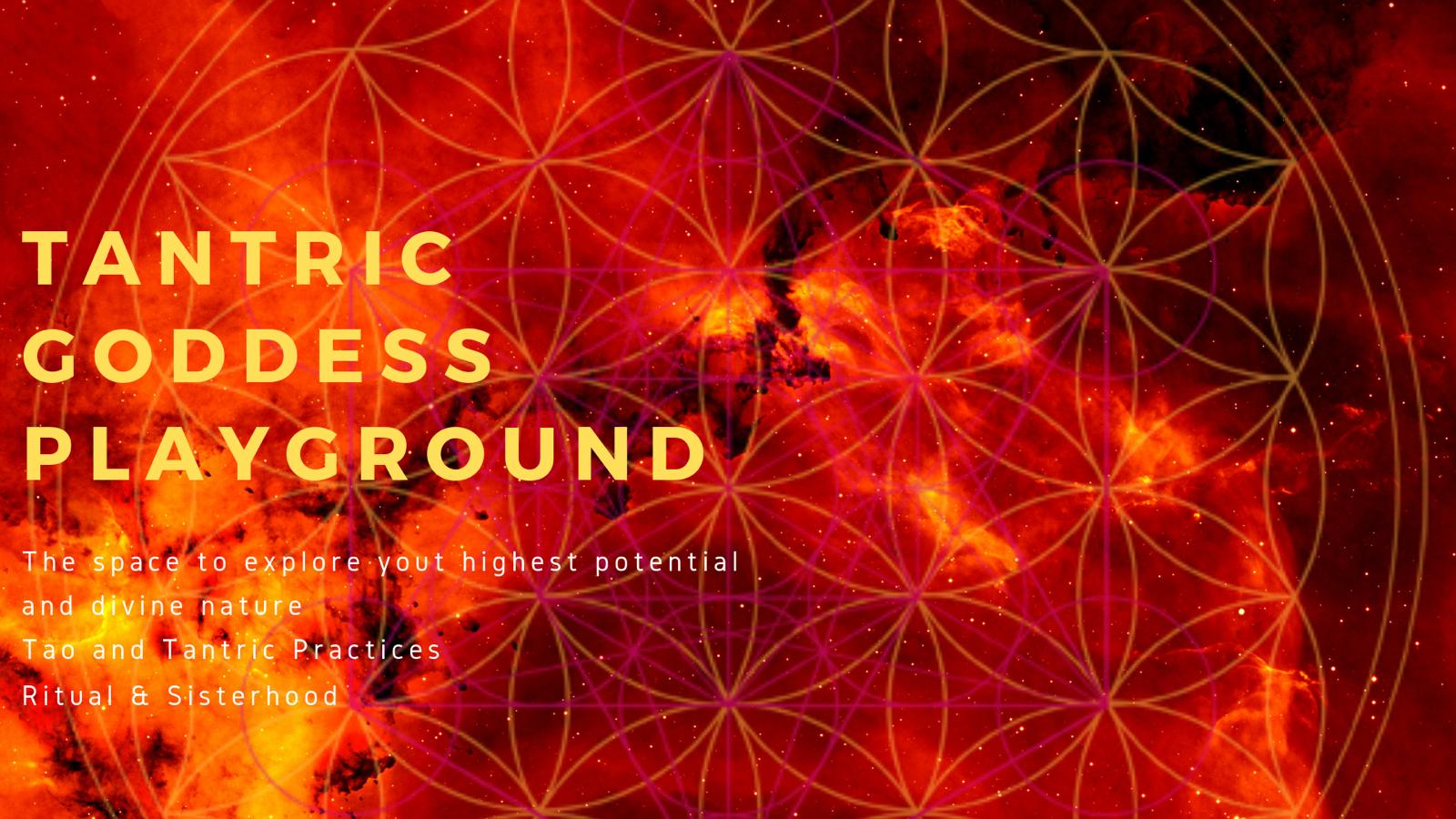 ☄CONNECTING TO YOUR HIGHEST POTENTIAL
☄CONSCIOUS CREATION FOR MOTHER EARTH
☄SISTERHOOD & FEMALE EMPOWERMENT
☄SACRED SPACE & RITUAL
***This workshop is for female-identified beings. Dear men, if you received an invitation, please share with a lover, sister or friend ♥ ♥ ♥ ***
We invite you in this safe and sacred space to experience your unique expression and embodiment of your highest potential. In Tantra, we call it the Divine. We will guide you into a deep personal journey into your profound inner wisdom and empowerment that you are capable of experiencing, creating and manifesting everything you desire in your life.
We will co-create two enchanting powerful rituals:
1. Embodying the Divine
2. S%x Magic for Mother Earth
This event is based on the following principles:
– We are creating our reality – that is something more and more people are awakening to.
– Sensuality & S☄xual energy is NOT a separate, shameful, non-spiritual part of us that should be tamed and hidden away in order for spiritual transformation to happen. INSTEAD, it is a potent expression of our divine Life Force.
– Pleasure is your power! Sensuality & S☄xual energy makes conscious creation, or manifestation, THAT MUCH MORE POWERFUL. It is pretty much like changing from a bicycle to a Ferrari 😉
***Embodying the Divine***
A profoundly nourishing ritual to connect with the Goddess in you. A worshiping of your highest potential and deepest truth.
Through this ritual you will experience the power of surrender into fully giving and receiving – giving all your presence unconditionally to someone else and something "bigger" than your ego might be able to comprehend – and at least a much important and empowering: receiving fully the pleasures and bliss of life and aliveness through all your senses. Both aspects are so important for us to step into our full potential, feeling fully alive and empowered to create the life we know we are worthy of.
***S%x Magic for Mother Earth***
Whether you are an experienced S☄x Witch, tired of manifesting personal things like lovers and travels, or you have no idea what we are talking about and are simply a female flavored human anxious about the state of our beloved Mother Earth and this sounds curious to you – welcome! If you are curious but have another intention or desire that is very important to you – welcome too!
S☄x Magic is a potent conscious creation ritual in which we activate and sublimate our life force energy to launch the rocket of our desires out to the Universe. This time we will come together with the common intention of creating a bright and safe future on Earth for all beings.
✨FLOW✨
19:00 Opening, Intentions and Connecting
20:00 Embodying the Divine Ritual
21:00 S☄x Magic Ritual
22:00 Sharing and Closing Circle
Updates here: https://www.facebook.com/events/687209948412178/
✨PRICE✨
30 EUR
✨HELP PLANT TREES TO HELP THE PLANET BY BUYING YOUR TICKET:✨
For every ticket, a donation will be made to https://www.plant-for-the-planet.org/ to plant a tree!
✨Spaces are limited, you are welcome to register sooner than later 🙂
✨If the money isn't flowing for you at the moment… We need Helpers – message us at least one week before 🙂
✨WHAT TO BRING?
– A big towel or sheet to protect your mattress from oil.
– Massage oil – we will provide some coconut oil but if you require any other oil, please bring your own.
– A sacred item for an altar, if you wish.
✨FAQ:
Q: Sounds interesting but I have no idea what exactly any of this means!
A: Don't worry, we will spend time arriving to the space and I will explain everything about the process, the breath, how to care for what is coming up and how to get the best out of the experience 🙂
Q: Do I have to believe in S☄x Magic to join?
A: No. It helps if you believe any or all principles above 🙂 If not, here is another point of view:
– To achieve any goal, it is helpful to focus on what we want, NOT what we don't want
– In relation to Climate Change, we tend to focus on what we don't want, creating anxiety and numbness.
– We will turn this around and focus on what we DO want and play with it using pleasure and life force.
– At a very minimum, this will result in inspiration, new creative ideas, and connections.
You can also just come with an open mind and heart and let yourself play and see what happens.
Q: Is it going to be an orgy?
A: No. There will be no touch between participants. This ritual can be anything between a breathwork process with no touch at all, to gentle self-pleasure like touching our bodies and faces gently to activate the flow of energy even further, to a full self-pleasure ritual. Your boundaries and comfort are of the utmost importance and you will never be pushed to do anything you do not want.
Q: I want to do S☄x Magic but at this time in my life there is another important issue, intention or desire that needs addressing.
A: It is OK, come 😀
Q: Shouldn't we just DO SOMETHING about Climate Change instead?
A: This event is not meant to replace inspired action. Rather, it is meant to inspire, expand and create new possibilities in our minds and hearts, to bring pleasure and joy so that we can then go out and do MORE of inspired action. Also, part of the profits will be donated to an organization that fights Climate Change (TBD; suggestions welcome)
Q: I have a question that is not mentioned here!
A: Message one of us, we are happy to answer 🙂
✨ABOUT:
// EVE is on a Tantric path since 2014 and has studied S☄x, Love and Relationship Coaching with a focus on Female S☄xuality and Jade Egg with an amazing visionary Layla Martin in 2018. This ritual is inspired by Layla's work and I adapted it to manifest many wonderful things in my life as well as shared it with men and women in coaching sessions and workshops. In 2019 I went through a deep layer of spiritual awakening from which the idea of this event was born – it is time to step into our creative power consciously as a collective, in service of Love and the highest good of all beings.
// MELANIE is a Tantric Sex, Love and Relationship Coach (also certified by the Tantric Institute of Integrated S%xuality), Yoga and Mindfulness Teacher and Yoga Therapist. She loves to examine things in depth and get to the root of it. Her mission is to guide people into feeling profoundly safe while stepping into their true power and sensuality and taking lead of needs and desires. Melanie loves to help people exceed their full potential in s*xuality, love and relating with themselves and others. Her heart expands when she supports people in experiencing magical deep connection and transformative intimacy on a soul level. And she also loves avocados, huge cups, giving people cute nicknames and being incredibly childlike irresponsible sometimes.
www.melaniewenzel.net
✨Client Love
"I went to the S%x magic Event not really knowing what would await me. I was a bit excited and nervous because I never did this before. Eve held the space with such great insurance and love that i felt save to really go deep into this Ritual. This empowered me to open up into the flow and letting go of limiting beliefs. I was able to abandon myself into the flow and experiencing what I feared the most. My sexual power. Eve guided an entire room full of women and i felt the power and magic of being a woman connected with other women"
"I was curious and without expectations when I came to this event and left feeling positively overwhelmed from this connective experience. Eve … created a safe space for this woman circle and made it possible for me to let myself completely go, free myself from shame and channel the powers within me. Every journey is unique. In mine I was able to connect to my higher self and got really inspired and back into my creativity. I have had physical pain in my body for the last month and also these went away after the session. Lets see for how long I will feel the effects but I was amazed how sex magic helped me manifest my healing and unchain blockades within myself after being to so many doctors offices with no results. the S%x Magic Ritual helped me bound with my sisters, our womanhood and mother earth. The Sounds chosen were fitting perfect … I am grateful for the possibility of me joining such a sacred ritual and manifest together for a better world with all of these beautiful women."
"Melanie is so intuitive, so compassionate and so loving. It was so easy for me to dive into my deepest feelings, because I knew and felt that she was holding space for me in such a powerful and deeply loving way. Every part of me is welcome in her session, even my darkest parts. Her spaceholding is healing in itself. She is an amazing, intelligent and highly intuitive coach."
"Melanie is able to create profound spaciousness that makes me able to trust and fully surrender into the process of going deep. I was able to reconnect to my true essence."